So a couple of the Baby a Baby Swap people do this thing called Friday Fill-ins.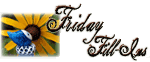 There's a blog that put up sentences for you to fill in. I kept reading their fill-ins and wanted to do it myself, so I did. This week's fill-in:

1. The chicken soup had an extra secret ingredient; it was Bisquick!
2. On Wednesday, the rain drenched my drying dishes by pounding through my window.
3. Right now, I need my size 1 knitting needles free.
4. Nowhere is where I went Thursday night; it was relaxing and frustrating at the same time.
5. Why does watching your baby struggle with a stuffy nose hurt so much?
6. All I can think of is the secret knitting project I'm planning for a friend.
7. And as for the weekend, tonight I'm looking forward to making Cocoa Butt Banana Cake, tomorrow my plans include a walk for supporting adoption and Sunday, I want to get more knitting done!


Ah, Thursday night... That was a struggle. I had 2 things planned and I went to neither. First, there was Enrichment. I love going to Enrichment, so it's odd for me not to go. Second, there was an Usbourne party that a lot of the AP playgroup moms would be at. I love hanging out with them and I try to go to all of the AP group's activities.

So why did I stay home, though? Well, I had been out and about with Margaret all day and the thought of climbing into the backseat to buckle her up was just a tiring thought. So I didn't go anywhere. Although, I did spend the night thinking, "Maybe I should have gone- I bet there are people still there. I could go now... Hmm... Car seat... No... (sigh)."