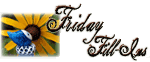 1. Holidays in the summer are few are far between.

2. Pineapple and shishkabobs are my favorite things to grill.

3. My thoughts are scattered today- they'll sort out eventually.

4. Making money with my friends is what I'm most looking forward to this weekend!

5. My favorite book so far this summer is Birth Autonomy.

6. Waking up next to my baby and husband- so cute! is the best way to begin a day.

7. And as for the weekend, tonight I'm looking forward to Stadium of Fire, tomorrow my plans include working all day again and Sunday, I want to relax!