I love cafepress. They have the coolest shirts there. One of my favorite stores is Evil Genius Woman's store.

My favorite is the shirt with this printed on it: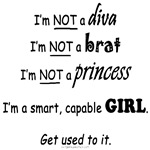 So much of what is marketed to little girls (and women in general) boxes them into stereotypes. I try to avoid clothing that does that- hence me "fixing" some of Margaret's onesies earlier this year.

I saw this the other day and enjoyed it. The other Target: Women segments are great, too.