1. October is going to be a very productive month for me.
2. Tiny critters that move unnaturally fast (ie spiders and such) scare me!
3. Leaves are falling all around, it's time for a photo shoot in the canyon!
4. My favorite horror movie is non-existent because I've never seen one.
5. Margaret's first Halloween should = good memories.
6. It was a dark and stormy night which became a cool foggy morning.
7. And as for the weekend, tonight I'm looking forward to making some longies out of sweaters, tomorrow my plans include conference and knitting and Sunday, I want to knit and listen to conference!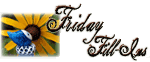 And if you're into the conference groove, you can listen to it
here
in pretty much whatever language floats your boat. Don't forget it's at 10 and 2 Saturday and Sunday MST.