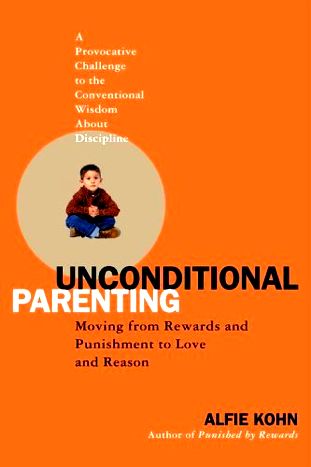 Unconditional Parenting: Moving from Rewards and Punishments to Love and Reason by Alfie Kohn was an amazing book. Somethings are easier to swallow than others: it's easy to accept that time-outs and spankings don't work, harder to accept that "good job!" and stickers for good behavior are damaging. But the concepts of this book are mind-blowing.
One of the most important things that Kohn points out is that it doesn't matter when, as parents, we say, "Of course I love my child unconditionally!" if our child doesn't get that impression through our words and actions. I see this all the time. I have lots of friends who as adults struggle with their relationships with their parents- go to counseling, some even have cut off their contact all together. I wouldn't be surprised if my friends' parents are wondering, "Why are they cutting me off? I love them! Can't they see that?" But, I wonder, if their actions really showed that when they were raising their children. To a child, knowing emotionally that your parents love you unconditionally is more important than knowing it intellectually.
This book isn't full of, "This is what you should do if ____ happens." Kohn repeats that he doesn't know your child and a parenting book like that would be useless. He gives some examples from his own life and some suggestions for ways to deal with various problems, but it's definitely not all-inclusive.
The first part of the book might be hard to get through: he presents studies which demonstrate how harmful punishments and rewards can be to children. It might seem like he never stops with that, but he does. I think Kohn felt that he had to fully refute punishments and rewards before he got on to his philosophies and suggestions. If you get through that first bit, it will cause you to really question, "Why?" to everything you do as a parent.
He admits that his unconditional parenting approach is time-intensive. If you want a quick-fix, this isn't the book: he questions whether or not our quick-fixes have the long-term effects we want them to.
Personally, I found his unconditional parenting approach most like how I think Christ would parent. He emphasizes patience, unconditional love, not using bribery or fear, not worrying what other people around you think of your parenting. However, like I said, it's not a "How To" book. It's a "change the way you view your relationship with your children" book. I've heard that a great follow-up book to
Unconditional Parenting
 is Faber and Mazlish's
How to Talk So Kids Will Listen and How to Listen So Kids Will Talk
 which I hope to get my hands on in the future.
Yes, it can be hard to swallow, but I would definitely recommend it. You will think differently when you're done. I could write a whole lot more on this book, but I'd end up just transcribing the book onto my blog, and I obviously can't do that for copyright reasons. Check out the book. It's good.