1. Dreamland is my favorite place to travel to.
2. When I think about my childhood, I often remember maple trees.
3. A listener makes for a good friend.
4. The wind in the trees, the rain on my skin, summer so far has been nice and cool
5. Chocolate cake is so exciting!
6. My best friend knows my due date.
7. And as for the weekend, tonight I'm looking forward to doing nothing, tomorrow my plans include doing nothing and Sunday, I want to take a nap!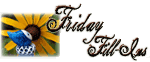 This week has been "one of those" weeks. I killed the harddrive on my laptop last Friday, so any Internet-ing must be done at the desktop, except we don't have a desk. This means sitting on the floor, which is kind of getting uncomfortable. My feet are falling asleep as I type.
We spent the weekend at my in-laws, which was nice, but meant Tuesday was spent catching up. And all desire to nest has completely left me.
Monday night I had a wonderful birth dream: it was a little girl, born autonomously. The placenta wouldn't expell itself from me, so at 12 hours postpartum, I had to be slightly more vigorous in pushing it out, but no bleeding. It was actually a wonderful birth dream and I hope this birth goes that way. For those of you guessing the sex of our baby, I've now had 1 boy dream and 1 girl dream. For the record, with Margaret I had 4 girl dreams and 3 boy dreams, so you can see how statistically significant my dreams are. :)
Thursday was kind of hellish. I spent an hour at the DMV, was the second to next person in line, and then the system crashed. Every DMV in the state of California was down. I decided to wait another 45 minutes, but at that point they were telling people it would be 2 more hours. I had run out of snacks for Margaret and I knew she would need to go potty soon, so I just went home. Of course, the DMV is closed today and won't open until Monday.
Still need a carseat. Still need a birth tub. One of these days I should start making double batches of dinner and freezing half of it. I need to do some sewing and knitting. We are still using cardboard boxes as kitchen tables. A couch would be nice, too. I also want to print out more recent pictures for our picture frames, but that's not going to happen any time soon.
On the more emotional level, I've been trying to find my place here. When it was time to introduce ourselves to the ward (this was the RS/Priesthood combined meeting), I felt very self-conscious about the fact that I'm not a lawyer or professional like all the previous women who had introduced themselves. We had been asked to mention hobbies and passions. Hobbies? Easy: knitting. Passions? Probably too crunchy to start off with. "Hi, My name is Heather and I'm planning on having this baby at home without a medical professional and I haven't regularly used shampoo in over a year." Um. No. Not a good start. I did mention that I was involved with lactivism and the FB nurse-in off-handedly. Lactivism
is
a passion of mine. I'm not sure if I scared people off or no, but it was nice to accept the label publicly instead of just on my blog.
Of course, when questioned and pressed about our birth plans at a RS meeting (one of those little group ones), I mentioned my UC with Margaret and was suddenly reminded why I don't mention that in casual conversation. I need to remake myself a bubble of peace. And I am so frustrated that people think McKay is so brave in "delivering" Margaret and "how nervous he must have been!" and "well, if he were studying to be a doctor it wouldn't be so bad..." and McKay McKay McKay. Um. Yes, he caught her, but he didn't have to be there. And why can't a woman be the have a baby without the nearest man needing to be the "expert?" ARG. Ok. Like I said: I need to rebuild my bubble of peace.
And there have been other disappointments in the pregnancy department. I probably won't get a belly cast or mother's blessing this time like I wanted. I'm not even sure if I'll get henna. And I want to do some birth art painting, but art supplies aren't really in our budget- especially after the harddrive issue and budgeting for a new carseat. I really wanted to celebrate this pregnancy, but I guess it'll just be one of your regular, boring pregnancies where you just keep living your life and then a baby shows up. ;)
But I've conquered a really bad UTI this week and all my urine levels are good. I also managed to control the ankle swelling. Strangely, I think it was related to the UTI because I haven't had any swelling since then. My fundus is on dates, maybe a week ahead. I've gained way more weight than I intended to, but I keep reminding myself that the "problems" of a "big" baby are better than the problems of a baby born too small.
I'm probably forgetting something. Blogging is going to be intermittent because my stream of consciousness is clearly not orderly right now.