1. I'm going to file a birth certificate today.

2. Right now, my life isn't particularly full of adventure and daring.

3. Perhaps today you can make it a point to do something you really enjoy.

4. Margaret has a true adventurer's spirit.

5. Compassion is something that takes practice

6. I will get through these few weeks no matter how difficult.

7. And as for the weekend, tonight I'm looking forward to knitting, tomorrow my plans include sending McKay out to get us a couch, maybe? and Sunday, I want to knit some more!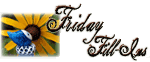 I think a couch will really help us right now. We just have our ugly chair and Margaret keeps climbing on me. Maybe if we had a couch and more seating, the world will be better.
Night time is getting better. Isaac sleeps most of the night, waking to nurse, but not waking to be awake for hours on end like he used to. This is great. Now if only I could figure out how to nurse two kids lying down.
And yesterday, we added
Amelie
to our list of movies we've seen. It's adorable.