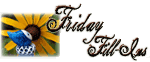 1. It's fun to
meet new friends
.
2.
Homemade deodorant
is easy to make.
3. I like to be
with my family
.
4.
Why people feel like they have to tell me to put shoes on my children,
I will never know!
(But I usually just smile and say, "We're hippies. We don't wear shoes," and they leave us alone.) Also in my arsenal: "We're protesting the poor labor conditions and insufficient employee compensation in the footwear industry."
5. Something I'm very much excited about
is finally connecting with the local unschooling group
.
6.
The time spent sewing my new temple outfit
was well worth it.
7. And as for the weekend, tonight I'm looking forward to
going out for our anniversary
, tomorrow my plans include
yard work
and Sunday, I want to
make stuffed peppers
!
So over on
InfiKnity
, I'm doing a 30 day cast-on-a-thon where I start a new project (knitting or otherwise) every day for a month. Yesterday I made deodorant using the
Instructables
directions. I also sewed a new temple outfit (pictures up at InfiKnity later today or tomorrow). I would still like to add some embroidery to it, but it's usable. I'm excited to start new projects as the month progresses! I also have a few blog posts in progress that I just haven't gotten around to. I've been in a blogging ennui slump.